Grain-loading Terminal
The Grain Terminal is located behind berth No. 1-z at Androsiivskyi Mole of Odessa Sea Port

Grain Terminal silo capacity allows for simultaneous storage of 250,000 tons of grain cargo (in terms of wheat grain)

Annual project capacity of grain handling in bulk and grain in containers - up to 4.5 million tons.

Grain Terminal monthly grain cargo turnover is up to 450,000 tons




Grain shipload lots are stockpiled in grain storage silos comprising 33 metal tanks (silos) manufactured by Symaga (Spain).




The Grain Terminal has a stuffing station available for stuffing of grain cargo containers in the amount of 80 TEU per day.
Services
"Brooklyn-Kiev" LLC provides handling of all types of grain and grain legume cargo, and renders the following services:
Stevedoring services:
Cargo receipt and unloading operations (from wagons/trucks)

Allocation of cargo in silo type elevator facilities

Loading of vessels 
Container handling:
Stuffing of containers with grain
Cargo storage:
Stockpiling of shipload lots in silo type facilities
Intraport freight forwarding
Grain Terminal Infrastructure:
Cargo handling sea front includes: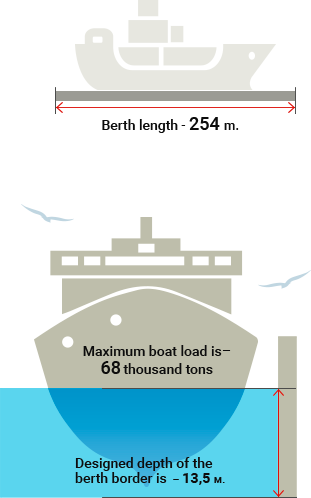 Berth length – 254 m,
Design depth at berth border – 13.5 m
Design maximum deadweight – up to 68 thousand tons
The berth is under construction. 
The scheduled completion time is  2020.
Berth 1-z is equipped with ship loader Neuro with a productivity rate of 1500 tons per hour, or more than 30 thousand tons per day.
Panamax and Post-Panamax vessel handling rate is up to 3 days (8 vessels per month).
Cargo handling railway front includes:
four rail tracks,

four train weigh scales.
The Grain Terminal rail track is connected to Odessa-Port railway station and has 2 entrance/exit points.
Wagon unloading rate – up to 204 wagons per day (up to 14 thousand tons of grain per day).
The Terminal will be equipped with a truck unloading station:
The truck unloading station will have four truck unloaders.

Unloading rate – up to 300 trucks per day.
Fumigation of agricultural products
Fumigation of agricultural products, food and feed raw materials, facilities for storage and processing of agricultural raw materials, vehicles (road, rail and sea) using effective and high-quality fumigants, modern methods and technologies for pest control stocks.

In the staff of the fumigation division, only professional employees with extensive experience in performing fumigation work. They are trained annually and pass exams in the State Service of Ukraine for food safety and consumer protection, which is confirmed by permits and certificates.

Our fumigation division has a license of the Ministry of Agrarian policy and food of Ukraine and all necessary permits in accordance with the legislation of Ukraine, and the company has implemented quality and safety systems ISO 9001:2015 "Quality Management System. Requirements", GAFTA fumigation standard (member of GAFTA since 2007).